Details

Published: Saturday, 04 October 2014 13:26
The description of the Big Bear Recreation Facility pretty much says it all: "Discover a hidden retreat centered in the heart of the San Bernardino Mountains... a perfect getaway for a little rest and recreation. If you seek adventure and enjoy the outdoors, Big Bear is the perfect place for you. During the winter, enjoy skiing and snowboarding. After the snow melts, fishing, mountain biking, hiking and water skiing are popular. The Big Bear Recreational Facility is dedicated to providing affordable facilities for camping and lodging for active duty, retired military personnel, Reservists, DoD employees and their authorized family members."
The
Big Bear Recreation Facility is operated by the Marine Corps Air Station Miramar. The town of Big Bear, CA, is located around Big Bear Lake. This popular recreation area is only 100 miles from downtown Los Angeles, yet it's worlds away from the hussle and bussle of the City of Angels. Near the end of August, we headed to Big Bear to visit friends. We had plans to stay in a friend's cabin. However, once we arrived, these plans fell through. We had planned to visit the Big Bear Recreation Facility during our visit, so why not see if we could get a cabin for the night. It all worked out great! We arrived without a reservation, but they duty NCO made a call to MCAS Miramar for us and we made a reservation on the spot. Payment was over the phone. Then the duty NCO could check us into the cabin we just reserved (2 minutes earlier).
The cabin was great! Although it was just the two of use for one night, the cabins are equipped with a full kitchen, a dining area, a living area with fireplace, TV and VCR/DVD, a loft with two double beds, a bedroom with a queen bed, and the bathroom wth a shower. Outside was a picnic table, fire ring, and charcoal BBQ. Since late August is "off season", the rate was only $100 for a Sunday night. Rates are higher durng the summer and there may be a minimum stay limit. For a family of 4 or more, this would be a great deal. For the two of us, it was still a reasonable price compared to getting a hotel in town.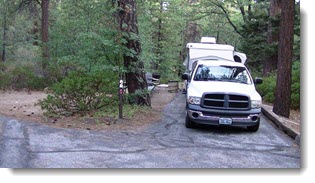 The Big Bear Recreation Facility has much to offer. The entire facility is located in the pine tree filled mountains. While not on the lake, they do have a small area to rent boats on the lake. There are 7 large tent sites for $20 a night, 5 RV sites with water and electric for $25 a night, and 8 cabins for $75 - $150 a night (dpeneding on the season). The RV sites are not very large and are located in a small dead-end cul-de-sac. I wouldn't recommend an RV longer than 30'. But these sites are perfect for a small trailer, truck camper, or pop-up camper. Theres no sewer hook-ups, and no dump station at the facility. We didn't check out the restrooms and showers that is between the RV and tent sites. We didn't have the combination and it was after the lodge had closed for the night.
There's plenty of recreation to do at the facility, or nearby. The Big Bear Recreation Facility had tennis and volleyball courts, horseshoes, a group fire ring, and a small playground. There's also a short hiking trail areound the facility. The lodge provides numeorus games and equipment for check-out. They also have Kayaks, Canoes, Fishing Boats, and Pontoon Boats available for rent on Big Bear Lake. The entire Big Bear area has plenty of outdoor activities for the summer and the winter.
Even though our visit was short, we were impressed with the facility and enjoyed our stay. We took numerous photos for the website and made a short video tour of the facilities.
=====> Click here for full information, additional photographs, a video tour, and a brochure on Big Ber Recreation Facility.