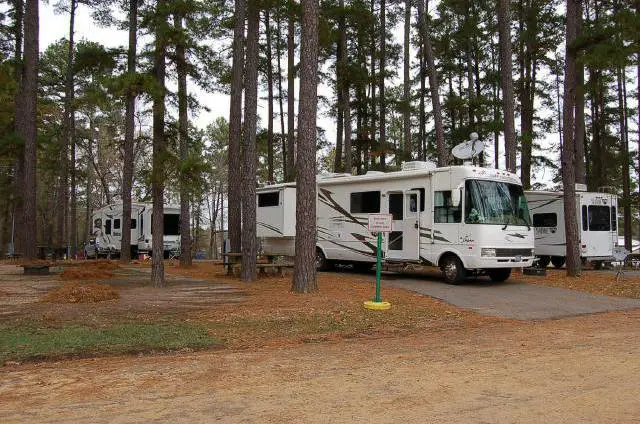 While traveling across the USA for winter, we stopped for the night to "check out" Elliott Lake Recreation Area, located on the Red River Army Depot, Texas. There were no problems finding the main gate when we followed the directions posted here. If we had followed our GPS, we would have been very near the campground, but far from the main gate, which is where YOU NEED to enter the post at. Visitors are required to enter at the Main Gate, since this is a closed post and you'll need to get a MWR visitors pass. There was plenty of room for our large motor home in the parking lot at the Visitors Control Center. This building is located at the main gate, on the west side. be sure to pull into this parking lot BEFORE attempting to enter the gate.You'll need to take your DOD ID and drivers license in for EACH member. Even if you already have DOD vehicle decals, you'll still need to get a MWR Visitors pass. Since we arrived on a weekend, the Visitors Control Center was closed, so the gate guards took care of our MWR pass for us. They were very professional and friendly (although I noticed a shotgun by the door).
Once through the gate, following the posted directions got us to the campground. Be patient, as it is over 7 miles from the main gate. Drive safely, as you'll go through some of the warehouse and storage area of the depot. It was sort of interesting to see hundreds of wrecked and trashed Hummers piled up. Lots of money in that pile! There's plenty of signs pointing to "Elliott Lake". Near the Recreation Area, there was some road construction for about a mile. We checked in at the camp store near the lake. The young lady was very friendly and helpful. The camp store has a small selection of snacks and other items. It's also where you can rent many of the outdoor recreation equipment.
The Elliott Lake Recreation Area is located deep into the post, away from all the military activities. It's a very wooded area on Elliott Lake. There were a few RV sites available for us. Most of the sites appeared to be taken by long-term residents. Although, none of the sites were "trashy" or had piles of junk. Of the 37 available RV sites, 3 - 6 of them will be marked with a "14-day limit" sign. How many are held for short-term stays varies based on the time of the year. All other RV sites not signed can be occupied indefinitely. We took one of the short term site, primarily because it had a clear view of the South, for satellite reception. It would probably be difficult to get satellite reception in about 75% of the RV sites. We got one of the 16 available FHU sites, but didn't use the sewer connection. The site utilities are sometimes on the wrong side. We backed into our site, to give our roof top satellite dish a clear view of the sky. However, this placed the electric and sewer on the wrong (passenger) side, with the sewer connection being very far away. But the water connection was on the correct (drivers) side. This isn't a big problem, as long as your aware and prepared for it. You may need longer hoses or cords. In addition to the 16 FHU sites, there's also 21 RV sites with water and electric, but no sewer. These sites are in a couple other areas than the FHU sites. If needed, there is a dump available.
| | | |
| --- | --- | --- |
| | | |
| FHU Sites | Tipee and Picnic Tables | Elliott Lake |
| | | |
| Cabin on the Lake | Outdoor Recreation | The Main Recreation Area |
Besides the RV site and tent sites, there's a large selection of tipees, shelters, and cabins for rent. Most of the cabins are spread out on the lake. You can shore your boat right outside of your cabin. They've also recently built a new 2 story cabin on the lake. Elliott Lake Recreation Area is a true recreation area. There's PLENTY of Outdoor Recreation activities available. Camping, picnic, outdoor shows, fishing, hunting, swimming, boating, playground, and games is just a short list of what is available here. While it was pretty quiet this time of the year (November), I bet this place is hopping in the summers!
Being an Outdoor Recreation area, it is a little rustic.There's dirt roads with lots of trees and leaves. You won't find manicured landscaping here. The RV sites have a concrete pad, picnic table, and BBQ. There's picnic tables all over the place for picnicking. There's also a community room that can be rented, and a large covered picnic pavilion. Sailboats, canoes, and other boats can be rented here. They even conduct classes here during the summer.Normally, the cabins are rented without linens, so bring your own. However, they do have a "TDY" option on the cabins that includes linens and maid service. But you'll pay more for it.
There's no real facilities to use on post. No gas station, no exchange, and no commissary. While it's a bit of a hassle to enter the post and get a visitors pass, and it's a little drive to the Recreation Area, it's an ideal location to enjoy the outdoors and relax. However, be aware this isn't a "Big Rig" friendly area. While it may be possible to maneuver a 40' rig in here, it will be a tight fit to get through some of the tree lined roads and into the site..Although, we have a 36' motor home and tow a Jeep and didn't have any problems. You come here to enjoy the outdoors, not be in a fancy RV Park. The current rate of $12 for the RV sites is perfect.Cabins can be rented for $55+ a night.