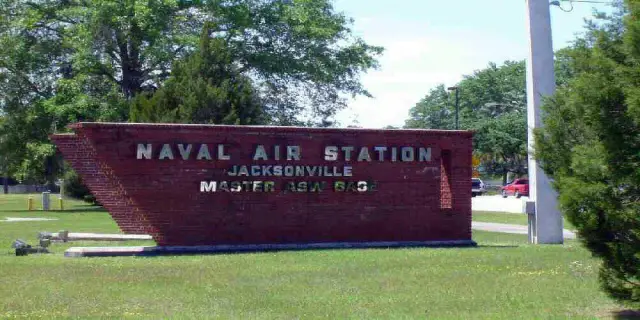 During our winter trip in early 2010, we stopped by the Jacksonville RV Park, located on Jacksonville Naval Air Station, Florida. We attempted to follow the published directions to the RV Park, but ran into a base gate that was closed on weekends. However, we had no problems getting onto base and adjusting our route to this RV PArk. Of course, we've already calrified the driving directions to make it easier to find. We didn't have our motorhome with us, so geting through the base gate was a breeze. We were spending the week at another nearby Navy RV Park and visited here to compare parks and update our information. Take note that the check-in for the RV Park is at the nearby Auto Skills Center. There's no office at the RV Park.
There are two "loops" in the RV Park that are completely different. During our visit, the "lower" section appeared older, has gravel roads, is in dense trees, and is on a small incline. This section also doesn't have sewer hookups. This is also where the overflow and tent sites are located, which don't have any hookups at all. The RV sites have a gravel pad (a few with concrete pads) and a picnic table. However, since our visit, news was received from MWR that they are planning the following improvements to the lower section of the RV Park to be accomplished in 2010: 1) Upgrade ALL RV sites to full hook-ups, 2) Replace the water, sewer and electric infrastructure, 3) Replace the site pedestals, including new concrete pads, 4) Add concrete patios, 5) Replace the old, rotted railroad ties, 6) Regrading and adding new gravel to the roads and sites, 7) Trim the trees to let in more light and allow for improved satellite coverage, 8) Regrade the tent sites, 9) Install water and electric at the tent sites, 9) Create a community fire-pit area at site #19, with a gazebo planned for the future.
| | | |
| --- | --- | --- |
| | | |
| Lower Section | Upper Section | Upper FHU Sites |
| | | |
| Typical FHU Site | Laundry Room | Bath House |
The other section, or "upper" section is newer and has 25 full hook-up RV sites. This loop is level and is mostly in the sun (easier to get satellite coverage). The RV sites have concrete pads with a concrete patio and a picnic table.
Located where the two loops join together is a large bathroom, shower, and laundry facility. During our visit, the 3 washers were $1.00 a load, but the dryers were free. Recent reports state new washers and dryers have been installed and are now both free. All of the facilities were clean and in good shape. WiFi Internet is availabe in the RV Park, but cost $7.95/day, $12.95/week, or $21.95 a month to use. The Navy base itself is large and has all of the facilities you would expect and gets good reviews. The city of Jacksonville is large and crowded, but located in a good location to tour northern Florida and the eastern coast.
| | |
| --- | --- |
| | |
| Upper Section | Upper FHU SItes |