Editors note: This article was written by Jim Twamley, www.rvtravel.com, and is used by permission.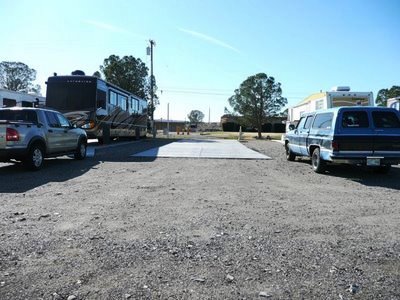 The Desert Rat is the RV campground for the Barstow Marine Corps Logistics Base in Southern California. Aptly named because it's primarily occupied by long term residents leaving little room for folks just passing through (which is what you want to do because there is nothing here worth seeing or doing).
They do have a couple spaces saved for those just passing through, but it would be a good idea to call ahead if you plan on staying here. To check availability call (760) 577-6418.
There is plenty of dry camping on gravel, but they charge $10.00 for this privilege (absolutely ridiculous since there are no restroom or shower facilities - they should be ashamed of themselves).
The full hook-up sites are back-in with W/20/30/50/S and run $18.50 per night if they aren't being used by the long-term desert rats. Sheesh! What is it with MWR's thinking they are Club Med when it comes to overnight campground fees? It's getting ridiculous when you can use a Passport America park for half the price MWR charges. And this campground doesn't have a shower room, bathroom or laundry room, but they charge like they have a heated indoor pool, hot-tub and computer WiFi and are beach-front property. There needs to be some oversight and standardization on these military campgrounds. It really is getting out of hand.
The base is easy to find and well marked on the freeway exit. From I-40, take the "Marine Corps Logistics Base" exit, which is about 2 miles East of the junction of I-40 and I-15. Go through the main gate (a little tight but enough room for big rigs to squeeze through). Go past the main gate about a mile and turn right into the exchange parking lot (you can turn sooner but the ramp is steeper). You'll see the family camp on the right. GPS coordinates for the center of the campground are N 34.87515, W116.95919. There are better alternatives in the area (Edwards AFB Famcamp) and I would not stay at the Desert Rat myself unless I had a real good reason. There is a commissary and exchange with plenty of parking space.
Watch this video as I take you on a guided tour of the facilities:
$10.00 bucks for dry camping in Barstow ???? Stupid! Jim Twamley, Professor of RVing