Details

Published: Saturday, 02 December 2006 13:00
We visited Davis-Monthan AFB FamCamp for 10 days in late April, 2006. They had recently changed their name to "Agave Gulch FamCamp". We followed the directions posted on this web site and had no problems locating the campground. It didn't matter to us that they don't take reservations, as we rarely make them. We like the freedom to change plans at any moment. Of course, this time of the year many of the "Snowbirds" had already left and there was plenty of space in the park. But I understand they get full during the winter months.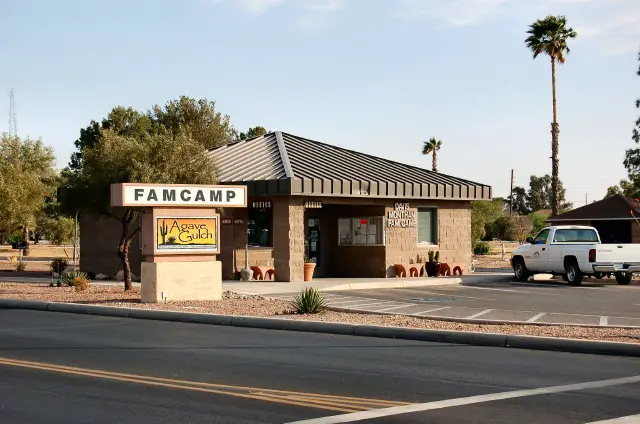 The campground is located on base and has plenty of space with 144 hook-up sites, and almost unlimited overflow space. Campground management is working hard to accomodate everyone and have a fair rotation schedule when hook-up sites are full. Unlike some parks we've visited lately, Agave Gulch is going out of their way to make room for everyone. Hook-up sites must be full before they open up the overflow sites. Because they're trying to find the right combination of stay rules, things may change again. But during our visit, the maximum stay limit in a hook-up site is 21 days. Then you rotate into a dry overflow site. They've opened up a new overflow site away from the main campground. During the 2005/2006 winter season, the average time in overflow was only 6 days before rotating into (or back to) a full hook-up site. There is no weekly or monthly rates. However, there is an exception to the above rules. They have 25 sites for 6 month stay limits (previously an 8 month limit). But instead of giving you a discount for the longer term, they charge $1 a day MORE than the normal daily rate. I can't argue with their logic. These long-term visitors are paying for the privilege of not having to rotate in and out of overflow. An interesting viewpoint. These long term visitors are on a first-come basis, just as the rest of the campground. In addition, a new policy was recently started that limits ALL visitors to no more than 245 days in a hook-up site. They then need to leave full hook-ups for at least 24 hours. This is in an attempt to prevent someone from setting up home with a yard full of junk and never moving. At least every 8 months they'll have to move everything out. Another interesting concept, which time will tell if it works. During our stay, we met someone who has lived there for 8 years. The new policy will change this.
The park is very well maintained and looks new. All 144 sites are level pull-thru sites. Each site is about 64' long with water, 20A, 30A, and 50A electric, and sewer. Each site includes a picnic table, but no BBQ. There's a variety of type of sites, which is probably the result of constant expansion. Our site was all 1" gravel with no concrete. Some sites had a concrete pad for the RV with a gravel patio. Others had a concrete pad and a concrete patio. Some sites were fairly close together, while others had plenty of space. We had a wider site, but our neighbor's awning was 18" from our motor home. Regardless of the site, they were all in good condition.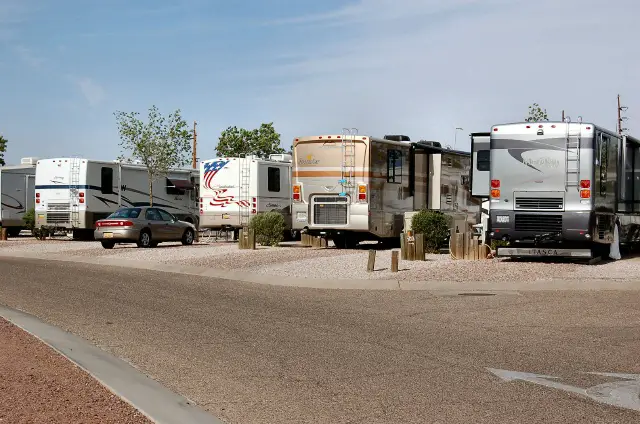 The proactive campground management works very hard to improve the campground. It's not for a lack of trying, but typical budget and political issues have prevented any quick results. Work orders and budget requests have been submitted for years to expand the campground, install WiFi, increase the full hook-ups, build a recreational hall, and build a new laundry. Davis-Monthan recently obtained a new Base Commander, so there's high hopes some of the funding will be approved for 2010. Park wide WiFi has been approved for 2007. Too bad a military campground isn't allowed to keep their own profits. If this was the case, Agave Gulch would be a premiere RV resort! Even without the funding, slow improvements are being made. Land has been cleared for additional sites, with 15 new full hook-up sites recently added. An additional overflow area, with possible relocation of all overflow, has been made near Swan gate.
Davis-Monthan AFB is home of the famous military aircraft "graveyard". Acres of aircraft are wrapped, sealed, and mothballed. We had a view from our RV site of hundreds of sleeping aircraft. We even saw a few B1 Bombers getting a sunburn in the desert.
The famcamp has their own laundry facilities, although clean and modern, it is extremely small! I can't imagine what this small room is like on a busy day. There's 8 washing machines available at $1 each, and 8 dryers also for $1. In addition to the laundry room, there's 3 separate buildings with showers and restrooms. The camp office also houses the small activity room. Although the office section closes, the building is open 24/7 for access to the well stocked information. There's games, a small book exchange, TV, tons of maps, menus, and local information, as well as 4 DSL and 1 dial-up Internet connection. The entire campground staff and manager were extremely friendly and helpful. They're giving 100% to this campground, and it shows. They also have monthly social activities planned all year round.
Agave Gulch FamCamp is located on the edge of Tucson. Being a large metropolitan city, there's a ton of activities. But the campground location isn't in the heart of the city, so you don't have the traffic and noise of downtown. Within a short distance is the eastern Saguaro National Park, as well as a drive up Mt. Lemmon. There's all sorts of outdoor activities available in the area. Nogales, Mexico is also just a short drive south. Davis-Monthan AFB is a well kept Air Force base, with a large commissary and exchange, as well as a couple gas stations, fitness center, large pool, and all other facilities you would find on a large active base. While you can arrange to have propane delivered directly to your RV in the park once a week, it was almost $1 a gallon cheaper to go to the base gas station behind the exchange.
We rated this campground with 4 stars. This park is working hard to meet the demands of every guests, and comes pretty close. It's not because of the staff that we didn't rate them 5 stars, it was because of the extremely small laundry room and how some sites seemed extremely close together. Highly recommended.